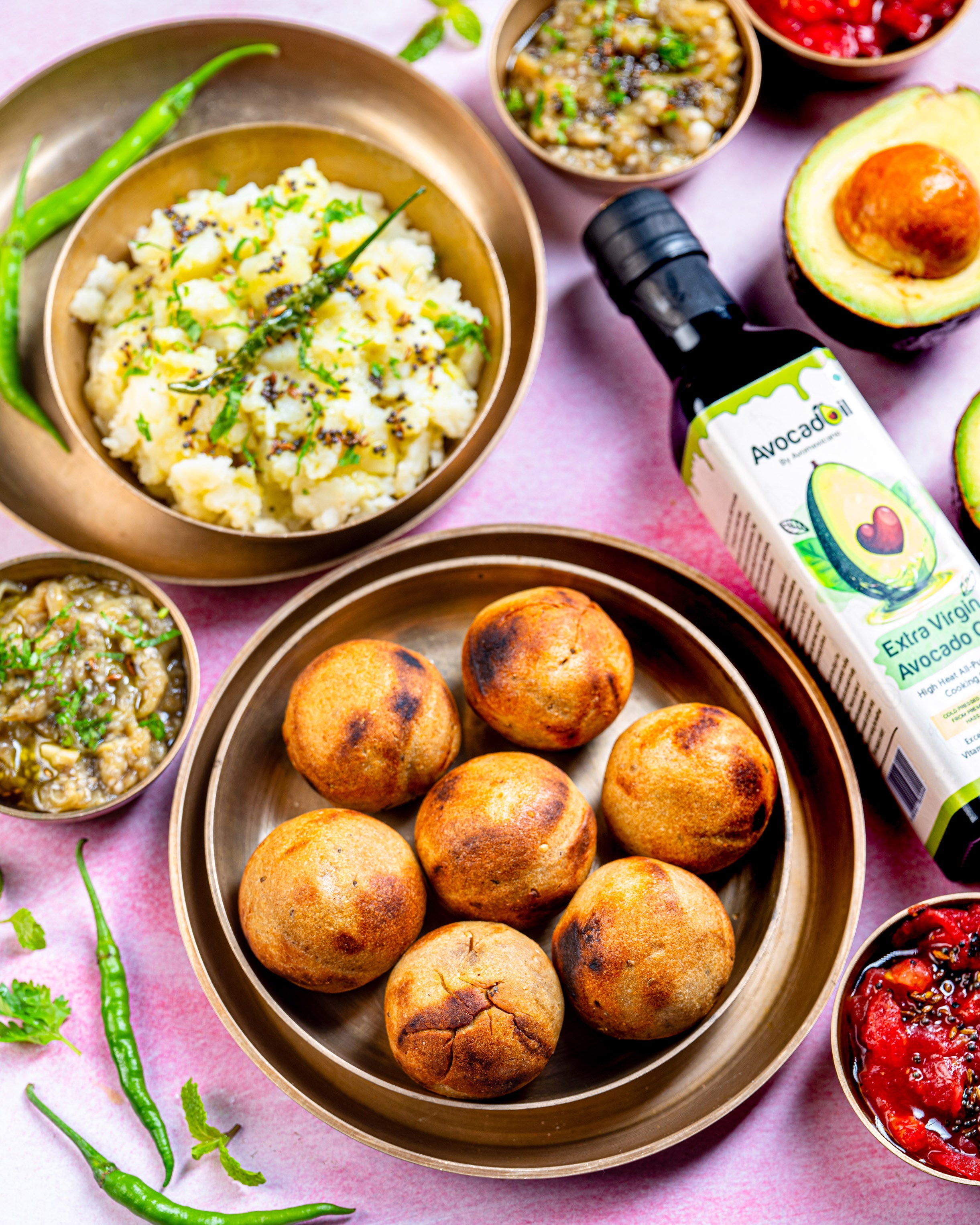 Ingredients:

For Litti-
1 cup Amaranth flour
1 tsp salt
1 tbsp Avocadoil
Water as required to knead the dough

For Filling-
1/2 cup roasted black gram flour ie Sattu
1 tsp salt
1/8th cup Avocadoil
1 tsp nigella seeds
1/4 tsp Ajwain seeds
1 tbsp mango pickle
1/2 cup chopped coriander

For the Mash -
3 Ripe Tomatoes
1 Potato
1 Aubergine

For Tadka -
3 tbsp Avocadoil
1 tsp mustard seeds
1 tsp cumin


Method :

To make the litti, In a bowl add the flour, salt and oil
Knead with hot boiling water as required to form a tight dough
For the filling, mix the roasted black gram flour, along with all the ingredients.

Shape the dough into balls and create a hallow centre, fill it with the filling made with roasted black gram mixture, and pinch the dough to seal the filling in the dough
Heat a paniyaram pan or a heavy bottom kadhai. Place the litti in it and cook on medium flame covered with lid, till it's roasted from one side
Flip and repeat
Brush Avocadoil on them once flipped and let it cook


For the mash
Boil the potato and mash it in a bow
Grill the Tomatoes and Aubergines over the gas stove to get a good char
Once roasted peel off the skin
In a bowl mash the tomato & mash the aubergine in separate bowl
For tadka heat the Avocadoil in a small tadka pan, add mustard seeds and cumin and let them splutter
Pour over the three mash
Garnish with chopped coriander

Serve the litti hot with the mash on the side.